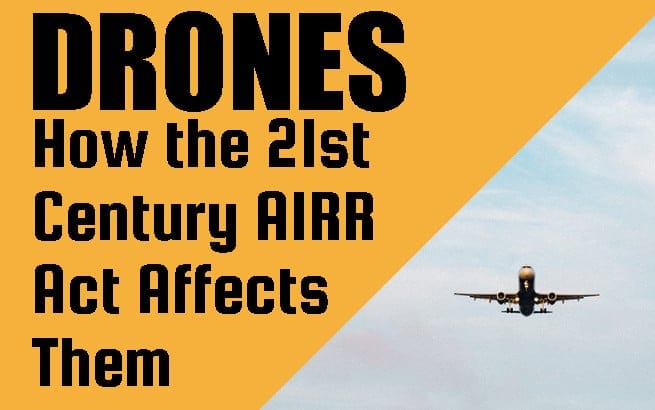 The scope of this is ONLY for unmanned aircraft since that is what my business is about. :)
The title of the bill is "21st Century Aviation Innovation, Reform, and Reauthorization Act'' and has multiple provisions for unmanned aircraft.
I'll outline below the major provisions for each of the areas. I'll continue to update this as I read through the documents.
This article is part of my Drone Legislation Database.
Table of Contents of Article
GENERAL
Calls for the creation of a non-profit corporation called American Air Navigation Services Corporation.
"The Secretary shall transfer operational control over air traffic services within United States airspace and international airspace delegated to the United States to the Corporation on the date of transfer in a systematic and orderly manner that ensures continuity of safe air traffic services."
Individuals who use air traffic services are assessed a fee.
AIR TRAFFIC SERVICES.— "The term 'air traffic services' means services (A) used for the monitoring, directing, control, and guidance of aircraft or flows of aircraft and for the safe conduct of flight, including communications, navigation, and surveillance services and provision of aeronautical information; and  (B) provided directly, or contracted for,  by the FAA before the date of transfer."
''(12) UTM.—The term 'UTM' means an unmanned aircraft traffic management system or service."
"(b) PREEMPTION.—A State, political subdivision of a State, or political authority of at least 2 States may not enact or enforce a law, regulation, or other provision having the force and effect of law related to air traffic services."
This act cleans up Sections 331-336 from the FMRA of 2012. It also puts it in the United States Code in Title 49, Chapter 455.
ADVISORY BOARD
The advisory board advising the non-profit corporation shall have on it unmanned aircraft operators and unmanned aircraft manufacturers.
Questions:
Does this also include community based organizations like the Academy of Model Aeronautics?
UTM
"[T]he Federal Aviation Administration shall initiate a rulemaking to establish procedures for issuing air navigation facility certificates pursuant to section 44702 to operators" of UTM for unmanned aircraft operations.
While the regulations are getting created, the FAA shall determine shall determine, at a minimum, which types of UTM and low-altitude CNS, if any, as a result of their operational capabilities, reliability, intended use, and areas of operation, and the characteristics of the aircraft involved, do not create a hazard to users of the national airspace system or the public."
The DOT shall "provide expedited procedures for reviewing and approving UTM or low-altitude CNS operated to monitor or control
aircraft operated primarily or exclusively in airspace above—(1) croplands; (2) areas other than congested areas; and (3) other areas in which the operation of unmanned aircraft poses very low risk.
OPERATION OF UNMANNED AIRCRAFT
Provides for a risk-based permitting process. One interesting thing is when the FAA is evaluating the operations, it SHALL look at 8 elements, 1 of which says, "Any history of civil penalties or certificate actions by the Administrator against the applicant seeking the permit."
The permit lasts for 5 years.
This permit is completely separate from Part 107.
Tells the FAA to shall establish a "procedure for granting an exemption and issuing a certificate of waiver or authorization for the operation of a small unmanned aircraft system[.]"  Where has the writer of this bill been the last couple of years? It then goes on to list an exemption like and reference "Exemption No. 11687, issued on May 26, 2015, Regulatory Docket Number FAA–2015-0117, or in a subsequent exemption[.]"  This exemption was of the 2nd generation of exemptions (remember "closed set" filming) and it doesn't make sense why they cited this one and not a post march 15, 2016 exemption which was better. But it does say "or in a subsequent exemption" so it ultimately doesn't matter but I found that interesting
MODEL AIRCRAFT
Upholds the protections of Section 336 regarding model aircraft flyers but DOES allow the FAA to create a registration system for model aircraft.
The Section 336 provisions, which used to be 5 elements, now includes the requirement that the drone cannot fly over a fixed site facility that "operates amusement rides available for use by the general public or the property extending 500 lateral feet beyond the perimeter of such facility unless the operation is authorized by the owner of the amusement facility[.]"
Commercial education of unmanned aircraft falls into the protections for model aircraft.
The new language defines what a community based organization is 501(c)(3), is exempt from tax under 501(a), "mission of which is demonstrably thefurtherance of model aviation[,]" provides programming and support local charter organizations, affiliates, or clubs, etc….
Tells the FAA to create within 180 days of passage a process for recognizing a community based organization.
PACKAGE DELIVERY
Creates a small UAS air carrier certificate for property transport.
COMPTROLLER GENERAL STUDY
• "the Comptroller General of the United States shall initiate a study on appropriate fee mechanisms to recover the costs of— (1) the regulation and safety oversight of unmanned aircraft and unmanned aircraft systems; and (2) the provision of air navigation services to unmanned aircraft and unmanned aircraft systems."
PUBLIC AIRCRAFT
Allows Indian tribes to obtain public aircraft status using unmanned aircraft. What about manned aircraft?
HUH?
''(g) EFFECTIVE PERIODS.—An exemption or certificate of waiver or authorization issued under this section, or an amendment of such exemption or certificate, shall cease to be valid on the effective date of a final rule on small unmanned aircraft systems issued under section 45502(b)(1)."  I have no clue what in the world this mean since Section 45502 is really the "updated" version of Section 332 of the FMRA of 2012 and was finally fulfilled by the FAA in the creation of Part 107 in August 29th, 2016.
In Section 434, it says, " It is the sense of Congress that …..the unauthorized operation of unmanned aircraft near airports presents a serious hazard to aviation safety; ……91.126 through 91.131 of title 14, Code of Federal Regulations, prohibit unauthorized operation of an aircraft in controlled airspace near an airport ……Federal aviation regulations, including section 91.13 of title 14, Code of Federal Regulations, prohibit the operation of an aircraft in a careless or reckless manner so as to endanger the life or property of another."   Why are they citing Part 91 when unmanned aircraft operate under Part 107? Yes, I know Section 44807 exemption operations are under Part 91 but this is like some weird hold over from the pre-107 days.