Proven Authority on Drone Law

Jonathan has made numerous media appearances (New York Times, Politico, Forbes, etc.) on the topic of drones as a drone attorney. His legal analysis of drones has been sought after by major media networks and drone industry-specific media. Not only have the networks reached out to him for his analysis, but they have also cited his legal works when reporting on major drone-related stories. If you are media and are interested in interviewing Jonathan, please contact him.
Jonathan currently is a contributor at Forbes.com for aerospace and defense. He was adjunct faculty at Embry-Riddle Aeronautical University for their Unmanned Systems Legal and Regulatory Compliance course.
---
Proven Customer Service
Just check out my Google Reviews page to verify things. I did NOT pay for any of them.
---
Proven Experience
Few drone attorneys have any manned aircraft experience. Jonathan started flight instructing in South Florida back in 2008. He originally started instructing at a flight school that prepared pilots to go to the airlines. Later on, he flight instructed during the day and went to law school at night.
On 4/6/2021, this was the result of searching the FAA airmen directory: 
Current as of 4/6/2021 with a search on https://amsrvs.registry.faa.gov/airmeninquiry/Main.aspx
Note. Some names produced multiple hits but the middle name did NOT match. It could be possible that the person has two middle names and the person used different legal middle names for the FAA and their attorney name.
Attorney
Firm/Company
Flight Instructor Certificate
Pilot Certificate
Remote Pilot Certificate
Jonathan Rupprecht
Rupprecht Law
CFI & CFII
Commercial
Yes
Lisa Ellman
Hogan Lovells
No
No
No
Matthew J. Clark
Hogan Lovells
No
No
No
E. (Ted) Tazewell Ellet
Hogan Lovells
No
No
No
Patrick R. Rizzi
Hogan Lovells
No
Private
No
Dianna Cooper
Hyudai
No
No
No
Brendan Schulman
DJI
No
No
No
Enrico Schaefer
Drone Law Pro
No
No
No
Mark E. McKinnon
Fox Rothchild
No
No
No
Mark A. Dombroff
Fox Rothchild
No
No
No
Anna M. Gomez
Wiley Rein
No
No
No
Joshua S. Turner
Wiley Rein
No
No
No
Gregory S. Walden
McGuire Woods
No
No
No
Dean E. Griffith
Jones Day
No
No
No
Jennifer L. Richter
Akin Gump
No
No
No
Grant J. Guillot
Adams and Reese
No
No
No
Why hire just a simple lawyer when you can hire an FAA-certificated flight instructor who is a licensed and practicing attorney?
---
Proven Results
The petitioner "has drafted a formidable legal team to represent RDQ to address this and other concerns. Jonathan Rupprecht, a Florida-based attorney who is also an FAA certificated flight instructor and unmanned aircraft certified pilot, has a winning track record on challenging FAA rules, having prevailed over the FAA in Taylor v. Huerta, which overturned the agency's 2015 registration requirement for recreational aircraft. "  – Forbes
Here is a quick summary of what I have helped accomplish for clients.
As of 8/30/2022:
Part 107 Waivers
132+ Waivers Approved (I just stopped counting).
5 Over People for Day & Night Waivers Approved
2 Night Waivers to Allow Drone Spraying of Economic Poisons
4 Swarm Waiver to Allow Drone Spraying of Economic Poisons
1 Moving Boat Waiver
1 Beyond Line of Sight Package Delivery Waiver
1 Drone Light Show Waiver
As of 6/2/2022:
Special Program With The FAA
Assisted in setting up and maintaining a special program (Partnership for Safety Program) with the Federal Aviation Administration
Exemptions
74 Exemptions Granted Total
50 Exemptions Granted to Allow Part 137 Drone Agricultural Aircraft Operations
Operating Certificates
30 Agricultural Aircraft Operating Certificates from Start to Finish (as of 8/16/2022)
2 Drone Add-Ons to Already Existing Manned Aircraft Part 137 Operations.
Airspace Authorizations
55 Airspace Authorizations Approved
21 Airspace Authorizations to Allow a Night Waiver Operations
1 Airspace Authorization to do a Night Swarm Waiver Operation
FAA Related Investigation/ Litigation
16 FAA Investigations I Assisted With On the Defense Side
6 Lawsuits Against the FAA I Assisted With On the Plaintiff's Side
Litigation
Defense

Criminal defense against state prosecution in multiple cases (misdemeanor and felony reckless endangerment, trespass, etc.)
Civil defense against the plaintiff's accusation of invasion of privacy

Plaintiff

7 Cases in Federal Courts
Things I've Created (No, I do not outsource my work as other attorneys do).
Qualitative operational risk assessments. I have calculated the probability of fatality per hour on multiple aircraft.
Quantitative operational risk assessments
Concept of Operations Document (CONOPs)
Waiver Safety Explanation Guideline Traceability Matrices
Operations Manuals (with emergency procedures, normal procedures, etc.)
Training Manuals
Safety Management System (SMS) Manuals
Checklists
Special Security Instructions Manuals (Really Important If You Are Working With SSI)
---
Other Important Things You Might Want To Know
You can verify that I'm an attorney, I have had NO disciplinary history, and I'm eligible to practice law at the Florida Bar's website. 
I also have malpractice insurance and can provide a certificate of insurance upon request.
---
Proven Legal Author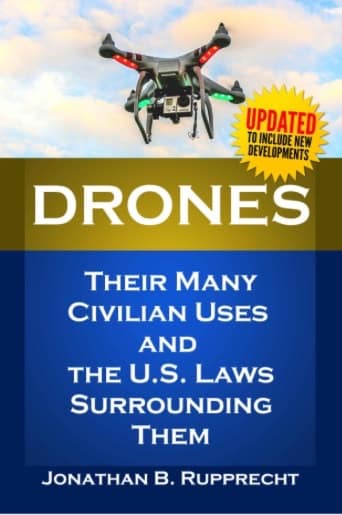 Prior to graduating law school, Jonathan did research on Japan's integration of unmanned aircraft. From that research, Jonathan authored a book on the law in the United States pertaining to unmanned aircraft called Drones: Their Many Civilian Uses and the U.S. Laws Surrounding Them. This book is currently being used as a textbook at multiple universities around the U.S. as part of their UAS degree programs. He later was an adviser for one of the amicus briefs for the highly publicized Huerta v. Pirker case.
The first book led into him being requested to be a co-author on an American Bar Association book, while still in law school, called Unmanned Aircraft in the National Airspace: Critical Issues, Technology, and the Law.  Jonathan wrote on administrative law, the FAA rule-making process, and the special rule on unmanned aircraft. This book is in the Harvard Law School Library.
Jonathan's 100+ drone clients had a growing need for a drone-specific logbook which inspired Jonathan to create the Drone Operator's Logbook.
---
Proven Knowledge
The chapter on the FAA rule-making process for the American Bar Association was instrumental in giving him the foundation to assist in the three Taylor v. FAA cases at the D.C. Circuit Court of Appeals challenging the FAA's drone registration regulations.
---
Professional Licenses, Achievements, & Memberships
FAA Commercial Pilot's License with an instrument rating for single-engine and multi-engine aircraft.
FAA Certified Flight Instructor for Airplanes
FAA Certified Flight Instructor for Instruments
Florida Bar License
U.S. Federal Circuit Court of Appeals for the District of Columbia
U.S. Federal District Court of the Southern District of Florida
U.S. Federal District Court of the Middle District of Florida
Eagle Scout
---
Areas of Knowledge
Over the years of practicing law, I have become familiar with some other areas of the law:
Criminal law (I worked at a criminal defense law firm as an associate attorney).
Export Controls (ITAR/EAR)
Farm leases.
Solar leases of real property.
Rupprecht Law Supports the Know Before You Fly Campaign.
Click below to be taken to the website.