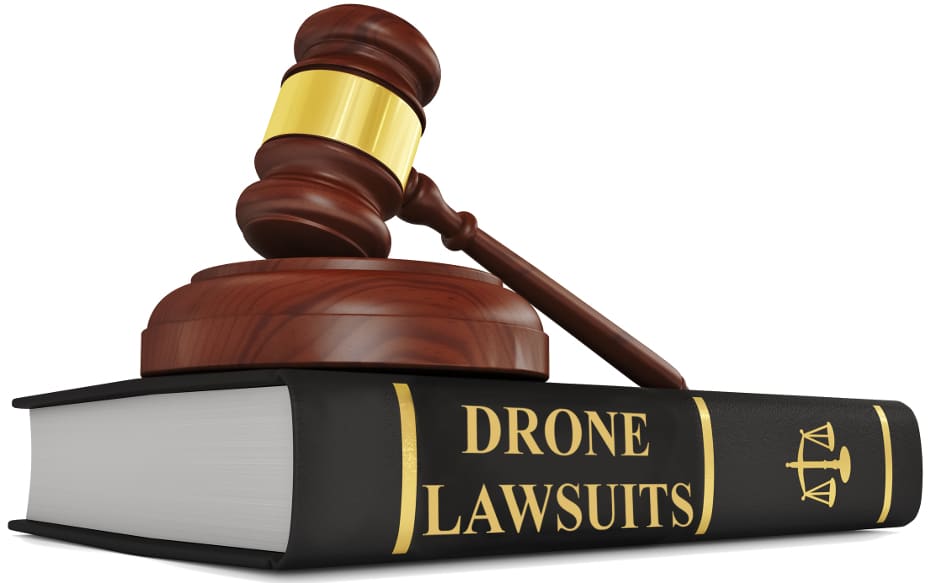 Interested in learning about drone lawsuits?
I have compiled the various drone lawsuits/litigation/prosecutions into the list below.
There has been a wide range of drone-related cases in the last couple of years ranging from flamethrowers mounted on drones to a drone crashing into a wedding guest.  I'm going to refer them collectively as drone lawsuits.
Some of the drone lawsuits I have written in-depth articles on, while other drone lawsuits I might just cite an article.  If you know of a drone lawsuit that I have NOT put up here, please send me an email! :)
The drone lawsuits list below is broken up into Federal courts, Federal administrative courts (e.g. NTSB), and then state courts. Note that for criminal cases, I ONLY included cases where the prosecutor has chosen to file charges. There are many more individuals who have been arrested for flying a drone but the prosecutors for whatever reason did not choose to file charges. I did not include any drug transportation or prison-drop related prosecutions since those really aren't drone cases but just drug or contraband cases. 
Notice: I try to keep this drone lawsuits list up to date. This page MIGHT not be up to date with rulings. Think of this page more of a starting point to research further into the final outcomes. 
If you are a person who has a drone-related matter outside of Florida, but you want to work with me, hire a local attorney in your state and tell them to contact me. If you are an attorney and need my help for a drone-related matter, please contact me.
Quick Summary on Drone Lawsuits/Litigation:
Most of the criminal cases tend to be prosecuted under the state law equivalent of careless and reckless endangerment or something along those lines. The other batch of prosecutions has to do with violations of exporting technology associated with military drones.
DJI's lawsuits involve them being on the receiving end of a class action or DJI being the plaintiff in a patent infringement lawsuit.
Then there is everything else. The civil drone lawsuits are all over the place (an Equal Protection Clause challenge against a state drone law, injured people suing drone flyers, products liability, breach of contract, etc.).
Drone Lawsuits in Federal Courts
Federal Circuit Court
EPIC v. Department of Transportation– EPIC is suing claiming the Drone Advisory Committee's use of sub groups that are meeting privately is a violation of the Federal Advisory Committee Act. There are other claims but that is the big one. The D.C. District Court ruled against them and EPIC is appealing it to the D.C. Circuit Court of Appeals.
John Taylor v. FAA II  (4th case)- Adjudicated.
John Taylor v. FAA I (Really 3 cases. Court consolidated them. ) –  Adjudicated. Taylor beat the FAA. D.C. Circuit held the drone registration rules were illegally created. Keep in mind the National Defense Authorization Act of 2017 overruled this case.
Tech Freedom v. FAA – Voluntarily dismissed because this missed statutory time to file. They joined as an amicus brief to the Taylor I set of cases.
EPIC v. FAA  II (2016) – Adjudicated.
UAS AMERICA FUND, LLC, SKYPAN INTERNATIONAL INC., PETER SACHS (individually and d/b/a Drone Pilots Association), and FPV MANUALS, LLC (d/b/a GetFPV and Lumenier),  – This case has been in abeyance. The plaintiffs were challenging the FAA's 2014 model aircraft interpretation as violating Section 336 of the FAA Modernization and Reform Act of 2012.
Academy of Model Aeronautics v. FAA – This case has been in abeyance since 2014. Same thing as above.
EPIC  v. FAA I (2015) – Dismissed.
Texas Equusearch v. FAA – Dismissed by the court because an email from a FAA investigator was not the FAA's final consummation on the issue.
Federal District Court
United States v. Jason Muzzicato. Jason is alleged to have used a DJI Phantom 3 with explosives to terrorize his ex-girlfriends house. Failing to register the drone is one of the count.
United States v. Eric Lee Brown. Prosecuted for a drone drug drop but what is really interesting is one of the criminal charges was for failing to register the drone. There was a plea agreement.
Autel Robotics USA LLC v. DJI -patent infringement action case in US District Court for the Southern District of New York. Complaint here.
EPIC v. FAA, Drone Advisory Committee RTCA, & more. – Lawsuit under the Administrative Procedures Act and the Federal Advisory Committee Act to obtain records from the the Drone Advisory Committee.
Robert Taylor v. FAA – Class action lawsuit over the registration regulations currently being litigated in the D.C. Circuit seeking around $840 million in damages and fees. Dismissed.
Reichert v. FAA – Currently being litigated. Class action lawsuit against the FAA seeking to destroy the FAA registry and get the money back to all those who have registered.
Singer v. City of Newton – Struck down the local drone law as illegal.  Federal District Court of Massachusetts struck down the local drone ordinance as being unconstitutional. It was appealed by the City to the appeals court but the City asked for the case to be dismissed which the court granted.
FAA v. Haughwout case (the kid with the gun and the drone) is currently being litigated a federal district court in Connecticut and the only order was that the FAA's subpoena powers were very broad.
Flores v. State of Texas -Southern Federal District Court of Texas  case on whether the Texas state drone law violates the Equal Protection Clause.
FAA v. Skypan case in the federal North District Court of Illinois.
Boggs v. Meredith case in the federal Western District Court of Kentucky which was dismissed. Boggs' drone was shot down by Meredith. Boggs sued in federal court claiming the drone was in navigable airspace (which means he was not trespassing in Meredith's airspace) and was entitled to compensation. The court dismissed the case because the court did not have the subject matter jurisdiction to decide the case and the case should be resolved in Kentucky state court.
DJI v. Yuneec – DJI is suing Yuneec alleging patent infringement.
DJI v. Autel –  DJI files a patent infringment lawsuit.
Garmin v. uAvionix- Garmin filed suit against uAvionix for patent infringement.
Sives v. DJI  – Class Action lawsuit against DJI regarding software update that allegedly damaged the drones.
Bard College's Center for the Study of the Drone published an article detailing multiple prosecutions under ITAR.
Justice Laub v. Nicholas Horbaczewski et al – Laub alleges that Horbaczewski breached a contract. They are demanding $9,900,000 from Horbaczewski and Drone Racing League, Inc.  Both Horbaczewski and Drone Racing League, Inc. have sued in New York state court asking for a declaration that Laub is not an owner of Drone Racing League.
United States v. Porrata – Defendant was sentenced to 5 years in prison and a $1.5 million fine for scamming investors with their sham drone manufacturing company.
Hobbico is doing Chapter 11 banktupcy.
The Inspector General for the Department of Transportation mentioned that their have been some investigations by the Department of Transportation against drone flyers.  "Finally, prosecuting UAS owners who violate FAA regulations or engage in illegal flight activities has been challenging. Since 2016, our Office of Investigations has opened 23 cases involving illegal operation of UAS. However, 10 of these cases were closed in the preliminary complaint phase, and were declined for prosecution for various reasons, such as the inability to prove criminal intent and a lack of prior prosecutions. Ultimately, further attention is needed to ensure FAA has strong oversight and enforcement mechanisms in place so it can effectively identify violations and mitigate the safety risks associated with increased UAS operations."
Philadelphia Indemnity Insurance Company v. Hollycal Production, Inc. et al. Filed April 16, 2018 in California Central District Court. Holly Cal Productions was hired to film a wedding which resulted in a patron being hit in the eye and going blind.  The lawsuit is surrounding the insurance policy's aircraft exclusion.
QFO Labs, Inc. v. Parrot, Inc., Parrot S.A., and Parrot Drones, S.A.S., – QFO sued Parrot for patent infringement.
UNITED STATES OF AMERICA v. CORVUS EYE PRODUCTIONS LLC – FAA was investigating Corvus and the owner. They sent a subpoena to the owner of Corvus. One thing led to another and the FAA worked with a U.S. Attorney to request a federal judge to order Corvus and owner to comply with the subpoena. The judge ordered the subpoena because the owner defaulted.
NATIONAL PRESS PHOTOGRAPHERS ASSOCIATION, TEXAS PRESS ASSOCIATION, and JOSEPH PAPPALARDO v STEVEN MCCRAW, RON JOY, WES MAU. Filed in the Federal Western District Court of Texas for declarative and injunctive relief against the Texas drone law for violating the First Amendment.
United States Court of Federal Claims
FAA and/or National Transportation Safety Board
From the U.S. Government Accountability Office report dated October 17, 2019,
"Of the 158 enforcement investigations opened from October 2015 to October 2018, 98 resulted in administrative action or legal enforcement action, such as a warning notice or a civil penalty. Of the 98 completed actions, 51 involved the assessment of civil penalties, 44 resulted in administrative actions, and 3 resulted in the suspension or revocation of UAS remote pilots' certificates, according to the data FAA provided. During this time frame, FAA levied civil penalties ranging from $250 to $55,000."
From the U.S. Government Accountability Office May 2018 report,
In the matter of Space-Crafting, Inc. – Before DOT Administrative Law Judge.
FAA v. Pirker case that was all over the news was appealed only up to the full National Transportation and Safety Board (NTSB).
See my  23 FAA enforcement actions analysis below.
FAA v. Mical Caterina – FAA started investigating Mical for a flight. FAA subpoened him. Mical sent in some information. FAA prosecuted Mical for $55,000.
FAA v. Ralph Rebaya– FAA revoked the private pilot certificate of Rebaya.
Conflicting numbers:

At least 70 enforcement actions since 2014. A senior attorney from the FAA had this in this slide from the 2018 FAA Symposium.
49 as evidenced from the GAO report on page 32.
Federal International Trade Commission
Autel filed a complaint against DJI in the Federal International Trade Commission. on August 30, 2018.
Federal Communications Commission
Other: (Because I don't know anything else).
Department of Transportation has been doing some investigations on some UAS operators.  The DOT IG's office testified, "Since 2016, our Office of Investigations has opened 23 cases involving illegal operation of UAS. However, 10 of these cases were closed in the preliminary complaint phase, and 9 were declined for prosecution for various reasons, such as the inability to prove criminal intent and a lack of prior prosecutions."  23-10-9= 4 still open?
Drone Lawsuits in State Courts
California 
Colorado
Boustred & Horizon Hobby v. Align Corporation – On appeal, court affirmed lower courts judgment denying Align's motion to dismiss the case against them. Align is a Taiwanese company who sells model aircraft through Horizon Hobby. Boustred lost an eye when the toy helicopter broke and is now suing Align and Horizon Hobby under strict product liability. The appeals court affirmed the trial courts ruling that personal jurisdiction can be held over a Taiwanese company.
Richard T. Jacky and Tamsin Jacky v. Parrot, S.A. et al. – Products liability lawsuit where a guy injured his eye with a Parrot rolling spider drone.
Connecticut
Pedro Rivera, v. Brian Foley, Edward Yergeau, & Hartford Police Department– Plaintiff works for a TV station and responded to a police scene while NOT working (his own free time). Plaintiff flew his drone and the police officer responded to the plaintiff's flight. Police officer called Plaintiff's employer and made suggestions that Plaintiff should be disciplined to maintain goodwill. Plaintiff was suspended for a week. Plaintiff sued claiming his constitutional rights were violated.
Florida
Kentucky
Commonwealth of Kentucky v. Meredith – The famous "drone slayer" case where Meredith shot down the drone. He was prosecuted for criminal mischief and wanton endangerment. The judge dismissed the case saying, "He had a right to shoot at this drone, and I'm gonna dismiss this charge[.]" Note: there is also a federal district court case associated with this case.
Lousiana
State v. Benson – Drone pilot was arrested and charged with flying a drone with the intent to surveil.
Michigan
Nevada
New Hampshire
Ellis v. Billcliff
Ellis v. Searles Castle – Billcliff, the groom, was getting married at Searles Castle. He was flying a drone. He went to go dance and put his drone down. Someone flew the drone and crashed it into a wedding guest, Ellis. She is now suing Billcliff and also the Searles Castle for damages.
Eaton, the other girl injured along with Ellis, is also suing Billcliff and Searles Castles.
New Jersey
Russel Percenti shot down a drone and was prosecuted for possession of a weapon for an unlawful purpose and criminal mischief.
New Mexico
New York
State v. Beesmer – Adjudicated not guilty. Flew his drone outside a hospital and was charged with unlawful surveillance. Held not guilty by jury.
State v. Daniel Verley –  New York City teacher crashed his drone into U.S. Open tennis match. He was prosecuted. They entered a plea deal to do community service.
State v. Riddle –  Guy crashed into the Empire State Building. Was prosecuted. Pleaded guilty to disorderly conduct. He has to pay a $200 fine and complete two days of community service.
North Carolina
North Dakota
State v. Turgeon – Adjudicated not guilty. Criminal prosecution for flying a drone allegedly near an airplane near the Dakota Pipeline protests. He was charged with a felony and two misdemeanors.
State v. Dewey – Criminal prosecution for stalking. Dewey was flying a drone during the Dakota Pipeline protests.
State v. Brossart – Not really a drone case, but a predator drone was used to track down a man. The crazy part is this was in 2012! This is more of a 4th amendment case.
Pennsylvania
Commonwealth v. Roselli.  Adjudicated guilty and put on probation for 2 years. Roselli flew his drone  near a helicopter. He was charged with risking a catastrophe (felony) and recklessly endangering another person (misdemeanor).  He did a plea deal. He pleaded nolo contedere to the misdemeanor and the prosecutor dropped the charges for the felony. He was put on probation for 2 years and to pay court costs.
Commonwealth v Layman. "court case involving local authorities, a drone enthusiast and his neighbor—an ex-police officer dog kennel owner who trains police dogs as part of his business[.]" The defendant was "facing felony charges of eco-terrorism and taunting, brought after his neighbor, kennel owner John Brannan accused him of harassing his dogs and causing them to harm each other. One of the dogs—a $14,000 European-bred canine—had its eyes gouged out in one of numerous violent fits unleashed by the dogs on each other, allegedly because of a drone flying above[.]" According to a criminal complaint, one dog had its eyes gouged out, another dog broke a hip and seven more dogs were treated for broken teeth. The defendant "'was acquitted of all charges other than a summary offense for disorderly conduct. That is essentially a speeding ticket,' says Pittsburgh attorney Cory Bauer, who represented Layman in the court case. 'All 15 felonies and misdemeanors were acquitted, and the defense revolved around the flight data. The reasoning behind the disorderly conduct charge was that the jury found him to be reckless in not following the FAA line of sight regulation. So, this case tells drone enthusiasts that the expectation is what we always knew it to be—follow existing laws and FAA regulations; and, that your drone data can either save you or sink you.'"
Commonwealth v. Kohl. Pleaded guilty. "Kohl pleaded guilty to a summary defiant trespass charge, was fined $125 and assessed court costs after his drone flew into an opening in a silo and crashed. The only reason he pleaded, he said, is because he is too poor for a trip to Pennsylvania to fight the charges. He also cannot afford the fine and related court costs that total about $300, he said."
Tennessee
State v. Haddox – Haddox was flying his drone during "CMA Fest activities and the Predators watch party on Broadway." He was arrested and charged with reckless endangerment and trespass. The "reckless endangerment charge stems from Haddox being unable to maintain line of sight of the drone and flying it over a ticketed event with thousands of persons present." The two dockets are here.
State v. Dodson – Dodson was arrested for trespass for flying his drone over buildings during a protest.
Washington State
City of Seattle v. Skinner – First drone flyer ever to be sentenced to jail for flying a drone. He flew over a gay pride parade and the drone crashed into a woman.
The woman who was injured is suing Skinner to recover damages for the crash.
City of Seattle v. Kelley – This is the famous Seattle Space Needle crash that was all over the internet.  Kelley was charged with reckless endangerment. He pleaded guilty to reckless endangerment and "received a suspended jail sentence of 364 days after entering his guilty plea" and "was also fined $5,000 with $4,750 suspended."
Wisconsin
Other:
GoPro received a class action shareholder lawsuit. The lawsuit surrounds statements made by the CEO regarding their drone which was later canceled.  A second class action against GoPro was also filed. 
FAA Enforcement Actions Prior to June 2016.
Keep in mind that Part 107 or 101 was not in effect at this time.
(June 11, 2016)  – Recently released documents from a FOIA request reveal a total of 23 FAA enforcement actions against drone operators. Here are the important take-aways I've found with the cases that have been released via Jason's great work over at Motherboard.
Quick Summary (Explanations and Graphs Below)
Not everything was released.
None of the regulations that are exempted in a typical Section 333 (now called Section 44807) exemption were cited.
None of the notices or orders say anything about 333 exemptions.
Two drone companies were targeted.
Defendants received reduced penalties when an attorney was involved.
No one had a 333 exemption in effect at the time of the flights.
Two certificated pilots were targeted.
1 case started with a subpoena.
151 days is the average from the date of the first violation to a notice from the FAA.
Phantoms were the most popular aircraft.
Many of the flights occurredin Class B Airspace.
The FAA enforcements appear to be spread out chronologically but not geographically.
4 of the flights were commercial.
5 notices or orders mentioned the loss of line of sight in the facts justifying a violation of the prohibition on careless and reckless flying.
9 of the cases also had some type of arrest or fine under state or local law for the flight.
The FAA did NOT charge the defendants with all the regulations that were violated.
Note: I'm not going to be citing directly to legal sources because I don't want to educate my competition. Take a look at my drone attorney bio and you'll see a graph of the drone law firms with the number of 333 exemptions they have filed. You'll see that a really large majority of them don't have much drone law experience. Remember, when hiring an attorney, don't hire a poser, hire an attorney who is a commercial pilot.
If you want to use the graphs, I only require that you leave the watermark intact. :)
Not everything was released.  There are more enforcement actions that I know of than what was released. I won't say anything else so as to not "inflame" their situations due to media attention.
None of the regulations that are exempted in a typical Section 333 (now called Section 44807) exemption were cited. This is a very important point. A 333 would provide a defense to those charges, provided the operator was following the exemption, but you have to remember, all the regulations apply. The 333 only exempts you from some of the regulations, not ALL. The 333 exemption isn't your own little world to operate in. The Federal Aviation Regulations still apply.
Compare with the regulations that are in an exemption:
14 C.F.R. § 61.23(a) & (c)
14 C.F.R. § 61.101(e)(4) & (5)
14 C.F.R. § 61.113(a)
14 C.F.R. § 61.315(a)
14 C.F.R. § 91.7(a)
14 C.F.R. § 91.119(c)
14 C.F.R. § 91.121
14 C.F.R. § 91.151(a)(1)
14 C.F.R. § 91.405(a)
14 C.F.R. § 91.407(a)(1)
14 C.F.R. § 91.409(a)(1) & (2)
14 C.F.R. § 91.417(a) & (b)
What is the take away here? Everyone of the flights could have been cited with many more violations of the regulations. The FAA left a lot on the table with charges. So why would anyone get a 333? Because the 333 exemption would keep additional charges from the second list above "off the table," provided you were operating under the 333. It would be beneficial as a partial defense.
Another take away is that the FAA treats 91.13(a) like bacon, they put it on everything to make it better.
None of the notices or orders say anything about 333 exemptions. This does give us a clue of the future dynamics when everyone has a 107 certificate. A 107 certificate being suspended or revoked would be bad when mostly everyone has one in the future. Remember that suspension actions, civil penalties, and revocations go on your record.
Two companies were targeted. Most individuals think the FAA is targeting individuals only but they have targeted at least two companies here. Without getting into the distinctions of how involved the drone operators were involved in the companies fined, this is one of the reasons why large companies hire 333 operators so they are not "on the hook" for the flight of the drone operator. What is interesting is the FAA didn't go after the individuals operating the drones as well! However, SkyCamUSA, LLC managed to escape this but their pilot David Quinones, the "mistletoe" pilot from back in 2014 who cut a reporters nose, received a pilot license suspension of 90 days while the company was not fined separately. Future enforcement actions could see the 333 operator AND the pilot on the receiving end of enforcement actions.
Defendants received reduced penalties when an attorney was involved. Except for Skypan, because it has not yet settled, every case that had an attorney representing the defendant resulted in a reduction in the proposed civil penalty from the original notice. In the following graph, the cases where an attorney was involved are navy blue while the pro se defendants are light blue.
One important thing to remember is that the attorney-client privilege applies to communications between an attorney and his client, not an attorney and a "consultant." This is an important distinction because a prosecutor could subpoena the consultant to turn over documents or to testify as a witness in an enforcement action against you!
No one had a 333 exemption in effect at the time of the flights. Four of the flights were commercial but the operators didn't have 333s in effect at the time. This means we don't know if the FAA has or will pull a 333/COA as part of an enforcement action.
Two certificated pilots were targeted. Two of the cases involved people with pilot licenses. A student pilot license was voluntarily revoked for a reduction in fine from $5,000 to $3,000 and a commercial certificate was voluntarily suspended for 90 days. These will show up on their airmen records. As time goes on, many more people are obtaining manned aircraft certificates or their 107 certificate.
1 case started with a subpoena. There are three situations, at least that I know of, where subpoenas have been issued at the front end to go on fishing expeditions to figure out more evidence against the potential defendants. Skypan is the first example of this and the third instance is the Connecticut gun drone kid which is being fought out currently. The FAA might be switching up tactics to file a subpoena first and then use the evidence gathered as grounds for more violations. If they don't "get" you on the civil penalty, they will at least get you to spend time and money on an attorney fighting the subpoena.
151 days is the average from the date of the first violation to a notice from the FAA. 
Phantoms were the most used aircraft.  Yes, you guessed it. The majority of the aircraft involved in these enforcement actions were Phantoms. I just lumped them all into one category as opposed to breaking down into different models of the Phantom. The Phantom is starting to be like the AK-47 of the drone world.
Many of the flights occurred in Class B Airspace. Class B airports tend to be in major cities. The radius for Class B airspace extends 5 nautical miles out (10 NM diameter) and in some instances even more. Here is a graph of all the types of airspace that the defendants flew in. Notice that a defendant can fly in different types of airspace for one flight.
The FAA enforcements appear to be spread out chronologically but not geographically. Some of the notices appear to have been filed around the same date. Maybe the prosecutor "batched" them on the side of their desk.
4 of the flights were commercial.  The FAA is not targeting only recreational flyers but also commercial.
5 of the notices or orders mentioned the loss of line of sight in the facts justifying a violation of the prohibition on careless and reckless flying. This is an important distinction because Section 336(b) is the FAA's good old fallback position in enforcements. FPV racers take note. The FAA explained its view in the 2014 Model Aircraft Interpretation and said that FPV racing is not compliant with Section 336's definition of model aircraft requiring line of sight and therefore would not be protected.
9 of the cases also had some type of arrest or fine under state or local law for the flight. You can be prosecuted under state/local law as well as federal law at the same time for the same flight. Also, keep in mind that a 333/COA is helpful for getting local law enforcement off your back as they are generally trying to find operators who do not have 333s. A good example of this is with the City of LA's ordinance. Law enforcement officers were going around asking people if they had a 333 or not. If you didn't have one, you could be arrested.
The FAA did NOT charge the defendants with all the regulations that were possible. I went through the facts and noticed a lot of regulation violations. Each flight should have been a $5,500 fine at a minimum. Why? With a typical drone operator, at least 5 regulations are usually being violated in each flight. If the operator switched out batteries, that would be a 2x multiplier because they are violating each of those 5 a second time on the second flight. A two battery job could compile a fine of around $11,000 if a prosecutor really wanted to go after you. It appears that the FAA's prosecutors were either disorganized as to how to fully prosecute these cases or they were too embarrassed to "throw the book" at the drone operator. As time goes on, I believe the prosecutors will get better at their game and there will be more and more pressure to vigorously prosecute violators. I asked my friend Craig Thompson, a Dallas Aerial Photographer, what he thought of this data and he said, "Given that more than a million drones have been sold in the U.S., the fact that only two dozen fines have been levied is surprising and likely reflects the FAA's lack of resources, rather than a lack of desire." I think his statement is correct. As time goes on, we can expect to see many more of these enforcement actions to be more fully prosecuted.
Potential Benefits to the Drone Community.  The FAA's lack of enforcement has been the catalyst for many states, counties, cities, and towns enacting some laws governing drones. The release of this information can have a positive effect by
showing that the FAA IS doing something. I would suggest giving this article out to any of your elected officials who plan on doing something regarding regulating drones. Tell them to give the FAA time to get "up to speed" on the situation before they pass any laws that will stifle this industry.