Drone Lawsuits & Litigation Database (2018)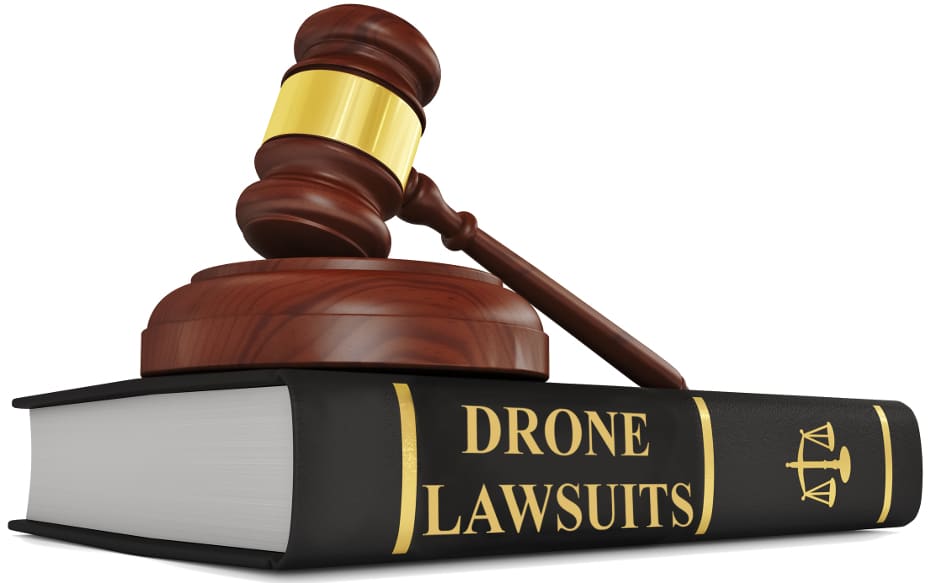 Interested in learning about drone lawsuits?
I have compiled the various drone lawsuits/litigation/prosecutions into the list below.
There has been a wide range of drone-related cases in the last couple of years ranging from flamethrowers mounted on drones to a drone crashing into a wedding guest.  I'm going to refer them collectively as drone lawsuits.
Some of the drone lawsuits I have written in-depth articles on, while other drone lawsuits I might just cite an article.  If you know of a drone lawsuit that I have NOT put up here, please send me an email! :)
The drone lawsuits list below is broken up into Federal courts, Federal administrative courts (e.g. NTSB), and then state courts. Note that for criminal cases, I ONLY included cases where the prosecutor has chosen to file charges. There are many more individuals who have been arrested for flying a drone but the prosecutors for whatever reason did not choose to file charges. I did not include any drug transportation or prison-drop related prosecutions since those really aren't drone cases but just drug or contraband cases. 
Notice: I try to keep this drone lawsuits list up to date. This page MIGHT not be up to date with rulings. Think of this page more of a starting point to research further into the final outcomes. 
If you are a person who has a drone-related mater outside of Florida, but you want to work with me, hire a local attorney in your state and tell them to contact me. If you are an attorney and need my help for a drone-related matter, please contact me.
Quick Summary on Drone Lawsuits/Litigation:
Most of the criminal cases tend to be prosecuted under the state law equivalent of careless and reckless endangerment or something along those lines. The other batch of prosecutions has to do with violations of exporting technology associated with military drones.
DJI's lawsuits involve them being on the receiving end of a class action or DJI being the plaintiff in a patent infringement lawsuit.
Then there is everything else. The civil drone lawsuits are all over the place (an Equal Protection Clause challenge against a state drone law, injured people suing drone flyers, products liability, breach of contract, etc.).
Drone Lawsuits in Federal Courts
Federal Circuit Court
Federal District Court
United States Court of Federal Claims
FAA and/or National Transportation Safety Board
From the U.S. Government Accountability Office May 2018 report,
Federal International Trade Commission
Autel filed a complaint against DJI in the Federal International Trade Commission. on August 30, 2018.
Federal Communications Commission
Other: (Because I don't know anything else).
Department of Transportation has been doing some investigations on some UAS operators.  The DOT IG's office testified, "Since 2016, our Office of Investigations has opened 23 cases involving illegal operation of UAS. However, 10 of these cases were closed in the preliminary complaint phase, and 9 were declined for prosecution for various reasons, such as the inability to prove criminal intent and a lack of prior prosecutions."  23-10-9= 4 still open?
Drone Lawsuits in State Courts
California 
Mark Anderson v. Aerovironment Inc., Et. Al. – Wrongful termination case in Los Angeles Superior Court where Anderson he was wrongfully terminated because the defendant transported at least one drone with a live bomb on a Delta airlines flight. Bloomberg article on it. In-depth investor report on it.
Telling v. DJI – Class action lawsuit against DJI in Los Angeles Superior Court
City of San Francisco v. Lily – The district attorney for San Francisco is suing the company Lily for false advertising and unfair business practices.
City of Los Angeles v. Arvel Chapel – Not Guilty. Criminal prosecution by the city under their city ordinance. The jury held Arvel not guilty.
Joe v. McBay – Small claims case. McBay shot down Joe's drone. The judge ordered McBay to pay for the shot-down drone.
Pituch v. Pi Kappa Phi
Pituch v. Perfect Event Inc. – Pi Kappa Phi of the University of Southern California hired Perfect Event to throw a party. One of the two defendants hired the drone operator who crashed the drone into the plaintiff's head. She is suing both defendants for negligence and premises liability.
Darshan Kamboj v. Hollycal Productions, et al. San Bernardino County Superior Court Case Number CIVDS1714762. This is the underlying action with the Philadelphia Indemnity Insurance Company v. Hollycal Production, Inc. et al. case. Basically,  Holly Cal Productions was doing a wedding shoot and the drone flew too low and struck a lady in the eye which resulted in blindness.
Colorado
Boustred & Horizon Hobby v. Align Corporation – On appeal, court affirmed lower courts judgment denying Align's motion to dismiss the case against them. Align is a Taiwanese company who sells model aircraft through Horizon Hobby. Boustred lost an eye when the toy helicopter broke and is now suing Align and Horizon Hobby under strict product liability. The appeals court affirmed the trial courts ruling that personal jurisdiction can be held over a Taiwanese company.
Richard T. Jacky and Tamsin Jacky v. Parrot, S.A. et al. – Products liability lawsuit where a guy injured his eye with a Parrot rolling spider drone.
Connecticut
Pedro Rivera, v. Brian Foley, Edward Yergeau, & Hartford Police Department– Plaintiff works for a TV station and responded to a police scene while NOT working (his own free time). Plaintiff flew his drone and the police officer responded to the plaintiff's flight. Police officer called Plaintiff's employer and made suggestions that Plaintiff should be disciplined to maintain goodwill. Plaintiff was suspended for a week. Plaintiff sued claiming his constitutional rights were violated.
Florida
Kentucky
Commonwealth of Kentucky v. Meredith – The famous "drone slayer" case where Meredith shot down the drone. He was prosecuted for criminal mischief and wanton endangerment. The judge dismissed the case saying, "He had a right to shoot at this drone, and I'm gonna dismiss this charge[.]" Note: there is also a federal district court case associated with this case.
Nevada
New Hampshire
Ellis v. Billcliff
Ellis v. Searles Castle – Billcliff, the groom, was getting married at Searles Castle. He was flying a drone. He went to go dance and put his drone down. Someone flew the drone and crashed it into a wedding guest, Ellis. She is now suing Billcliff and also the Searles Castle for damages.
Eaton, the other girl injured along with Ellis, is also suing Billcliff and Searles Castles.
New Jersey
Russel Percenti shot down a drone and was prosecuted for possession of a weapon for an unlawful purpose and criminal mischief.
New Mexico
New York
State v. Beesmer – Adjudicated not guilty. Flew his drone outside a hospital and was charged with unlawful surveillance. Held not guilty by jury.
State v. Daniel Verley –  New York City teacher crashed his drone into U.S. Open tennis match. He was prosecuted. They entered a plea deal to do community service.
State v. Riddle –  Guy crashed into the Empire State Building. Was prosecuted. Pleaded guilty to disorderly conduct. He has to pay a $200 fine and complete two days of community service.
North Dakota
State v. Turgeon – Adjudicated not guilty. Criminal prosecution for flying a drone allegedly near an airplane near the Dakota Pipeline protests. He was charged with a felony and two misdemeanors.
State v. Dewey – Criminal prosecution for stalking. Dewey was flying a drone during the Dakota Pipeline protests.
State v. Brossart – Not really a drone case, but a predator drone was used to track down a man. The crazy part is this was in 2012! This is more of a 4th amendment case.
Pennsylvania
Commonwealth v. Roselli.  Adjudicated guilty and put on probation for 2 years. Roselli flew his drone  near a helicopter. He was charged with risking a catastrophe (felony) and recklessly endangering another person (misdemeanor).  He did a plea deal. He pleaded nolo contedere to the misdemeanor and the prosecutor dropped the charges for the felony. He was put on probation for 2 years and to pay court costs.
Tennessee
State v. Haddox – Haddox was flying his drone during "CMA Fest activities and the Predators watch party on Broadway." He was arrested and charged with reckless endangerment and trespass. The "reckless endangerment charge stems from Haddox being unable to maintain line of sight of the drone and flying it over a ticketed event with thousands of persons present." The two dockets are here.
Washington State
Wisconsin
Other:
GoPro received a class action shareholder lawsuit. The lawsuit surrounds statements made by the CEO regarding their drone which was later canceled.  A second class action against GoPro was also filed.